Why ACE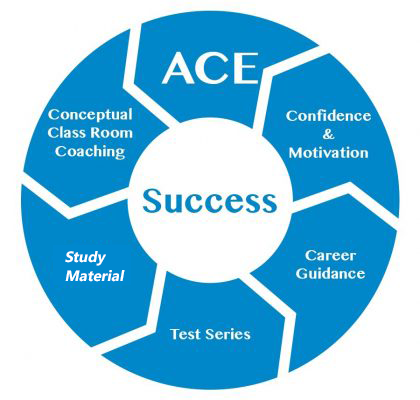 Synchronization of Classroom coaching with relevant Modules leads to success
1. ACE is the pioneering institute for ESE / GATE / PSUs coaching, with 25 Years of fruitful experience.
2. ACE provides result oriented excellent coaching for ESE / GATE by experienced erudite faculty members.
3. ACE will guide students successfully to mould their career in the right way.
4. ACE has become a launching platform not only for the merit students but also for the students with average academic background to achieve best ranks in IES and secure jobs in topnotch central government jobs.
5. The in-depth subject knowledge and competitive skills learnt in this academy, proved to be useful in securing not only good GATE rank but also pursue their M.Tech in IISc, IITs, NITs and other prestigious Universities and Institutes.
6. The coaching is also useful to face competitive exams conducted by PSUs.
7. The personal care taken by the CMD, Director / Management, the management and the faculty members make the students feel homely and they can concentrate on the studies with a focus to get the best results.
8. The inspiration and motivation gained in ACE Engineering Academy make the students confident to aim high in life..
9. The questionnaire solved in each subject, the study material provided and the various model exams conducted simulating the ESE / GATE pattern,  empower the students to tackle the actual papers with more confidence and secure the best ranks.
10. The mock exams conducted by the ACE Engineering Academy at various centers throughout India provides hands – on experience to the ACE students on the IES / GATE pattern.
11. The study material and practicing question bank are modified regularly to suit the ever changing syllabus and pattern of the ESE / GATE / PSUs.
12. All important information is kept in the website for the benefit of the students and maintained up to date by the institute with a dedicated team.
13. E-mail support provided by the ACE Engineering academy helps all the ACE students to contact the institute at any time and get all the required information, clarification of technical doubts etc.,,
14. The institute will guide the students right from the stage of admission to ACE for ESE / GATE coaching up to UPSC Interviews / M.Tech admission in the prestigious institutes.
15. The quality and success stories of ACE Engineering Academy can be enquired from seniors or friends.