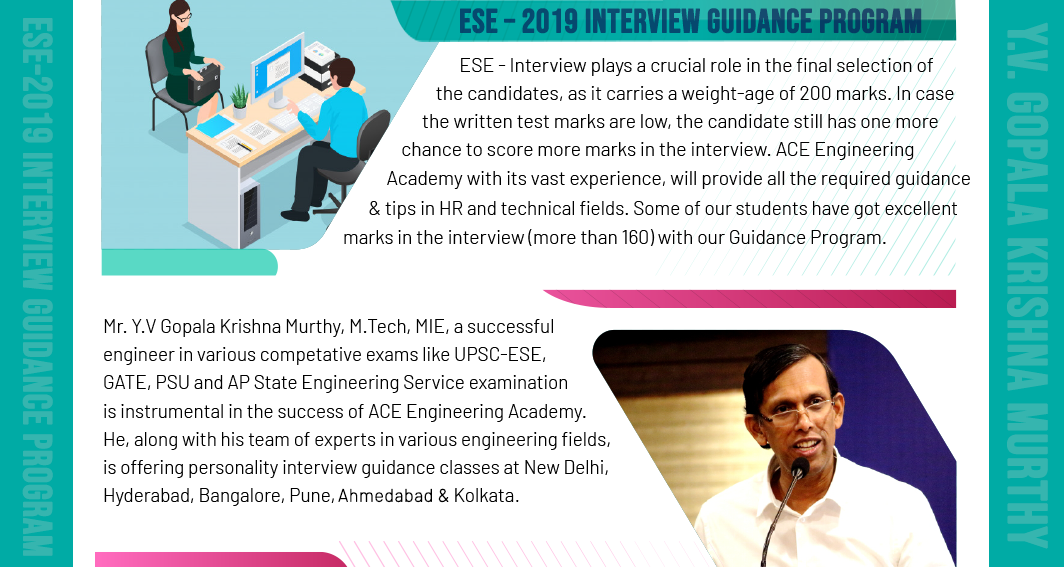 Encouraging Awards to the toppers who have taken guidance with us.
For the Present & Previous Students of ACE (Classroom/Postal Coaching / Test Series / Interview Guidance)
How to face interview – Tips and personality development.
Current affairs – Explanation and Discussion.
Personal profile   – Analysis
– Possible questions on education background
– Possible questions on Hobbies
– Possible questions
Job profile.
Quick review of important technical subjects by experts.
One-to-one personal discussion with experts
Motivation classes to boost up your confidence
Mock Interviews: Mock Interviews similar to real UPSC environment will be arranged. A separate interview panel for each branch of engineering consisting of four members.• Chairman
• Technical member – 1
• Technical member – 2
• HR Expert
Video Recording: Every interview will be video recorded. Later, our experts will analyse the interview performance of the candidate and feedback given in one to one interaction.
Feedback Analysis: At the end of the interview, each interview panel member will give feedback and suggestions on the performance of  a candidate with respect to body language, communication and presentation skills with right approach to avoid short comings and score high.
Postal Interview Guidance Material & Online Support (Mock Interviews Through Skype):
Postal Interview Guidance material ESE – 2019 will be available from 18th August, 2019 onwards. Please download the application form for postal guidance material, fill in your details and courier the form along with the following enclosures to the address given below (or) send scanned application along with self attested documents through mail (eseinterview@aceenggacademy.com). The material will be dispatched to you immediately by courier and Mock Interviews will be conducted through Skype.
Probable Questions in Interview Based on DAF A Unique Strategy:
Based on the particulars given in your DAF to UPSC for ESE – 2019 interview, our expert team will analyse and prepare a list of questions that are likely to be asked in your interview. The expected questions will be sent to you by mail along with the suggestions to prepare effectively. Also, the study material on "ESE – 2019 interview guidance" consisting of two volumes (i) Current national and international issues and (ii) on Technical subjects with previous ESE interview questions and answers will be sent to you by courier free of cost. To avail this facility, you have to register with us duly submitting the filled in application form with your details and enclosures. Click Here to download the application form.
*Note:
Dear Students, Interview Guidance material ESE – 2019 will be available at all our Centres, free of cost for the qualified candidates.
Subject to submission of following documents
1. Copy of ID Proof
2. Copy of ESE -2019 Admit card
3. Copy of DAF
4. Two colour photographs

Mock Interview Avail on Every Saturday and Sunday Day From 31st August 2019 at 5.30pm to 8.30pm on Prior Regustration up to the last Date of Interviews at New Delhi & Hyderabad
The MOCK interview will be on similar pattern of UPSC with an expert team.
The interview feedback analysis and one to one interaction available.
Video recording of MOCK interview will be given to improve performance further.
Free Accommodation:
"Free Accommodation will be provided at New Delhi one week to your actual interview" Terms & Conditions
For Further Details contact:
040-23234418,19,20 (Hyderabad)
7838971777, 9342899966 (Delhi),
080-41526699, 9341299966 (Bangalore),
020-25535950, 9343499966 (Pune)
8297899966, 8886899966 (Kolkata)
079-48902228, 9052199966 (Ahmedabad)
Queries, E-mail: eseinterview@aceenggacademy.com